Please Note: Stock of Royal Sussex Trugs in our retail shop is very low. We have over 450 Trugs to make for orders so please ring 01323-847540 in advance of coming to the shop for the next couple of weeks in order to check availability.   Our South Down Contemporary Sussex Trugs are also available in natural finish. (4th May 2019).
Our office will be unattended until 23rd May as Robin is attending shows (we continue making Trugs at shows!) but our workshop staff will endeavour to answer the above telephone number.  In the event they are unable to hear (sawing) please leave a message.
We know there are copies of our products available from other makers but there is only one place to obtain the genuine, originals and that is at the Thomas Smith Trug Shop! Each Trug is individually initialled by the Craftsman who makes it and each has a unique reference number next to the maker's initials.  Our name is your guarantee that you are buying the original, genuine Sussex Trugs, Traditional and Contemporary!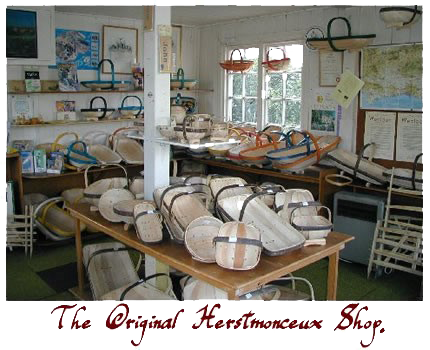 Opening Times:
Our retail shop is open Monday to Friday from 9 am to 5.00 pm but is closed on Saturdays, Sundays and bank holidays. There is plenty of parking in our car park at the back of the workshop or you are welcome to park on the forecourt. Entrance can be made through the workshop or via the front door.
Closed on Saturdays until October