Please Note: We now have stock of Royal Sussex Garden Trugs in our retail shop, with more coming being made right now.  Our South Down Contemporary Sussex Trugs are also available in natural finish.
We know there are copies of our products available from other makers but there is only one place to obtain the genuine, originals and that is at the Thomas Smith Trug Shop! Each Trug is individually initialled by the Craftsman who makes it and each has a unique reference number next to the maker's initials.  Our name is your guarantee that you are buying the original, genuine Sussex Trugs, Traditional and Contemporary!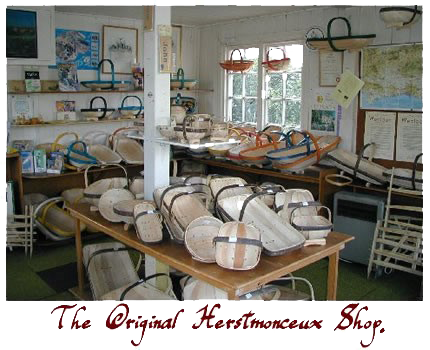 Opening Times:
Our retail shop is open Monday to Friday from 9am to 4.30pm in the winter (closed on Saturdays) and Monday – Friday 9am – 5pm & 10qm – 4pm on Saturdays during the spring, summer and autumn. We close Sundays and Bank Holidays. We may close some weekends when we are attending shows but will always give advance warning on our website and on our telephone answering machine if we are not in the workshop. There is plenty of parking in our car park at the back of the workshop or you are welcome to park on the forecourt. Entrance can be made through the workshop or via the front door.