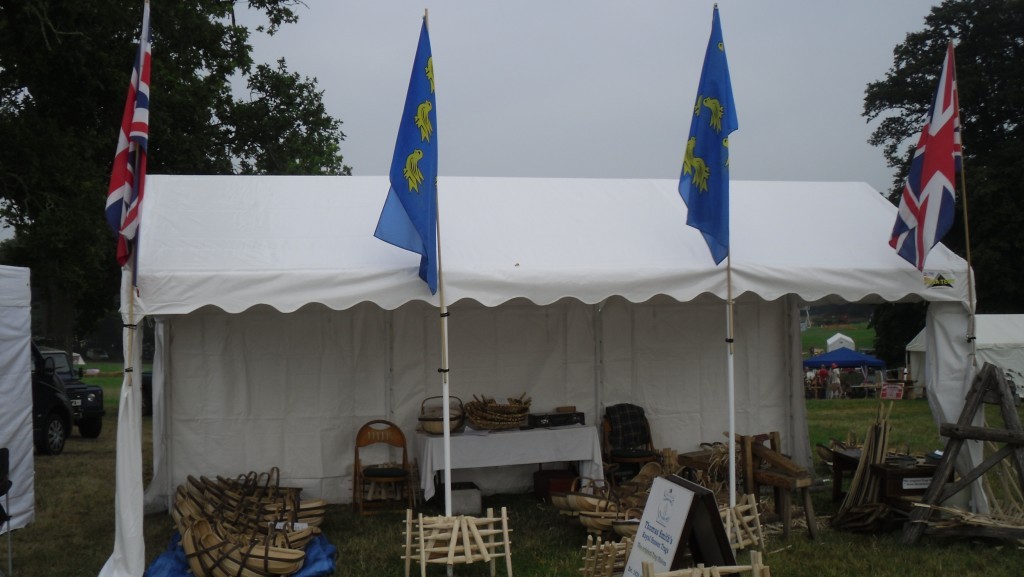 Stock Gaylard Oak Fair
Posted on:
Stock Gaylard Oak Fair has grown in stature and there were several more exhibitors at the show this year. As always, Andrew Langmead and his colleagues gave us a very warm welcome and, you know, this makes you feel that the effort of getting there was worthwhile! The weather was not too unkind to us but travelling there was a bit of a nightmare with extra traffic going towards the Great Dorset Steam Fair, which had been brought forward a weekend from it's normal time.
We met lots of friends old and new at the fair and a good number of customers who had bought Trugs from us in past years calling by to say how well their Trugs were behaving. I love that feedback! The atmosphere at the show is wonderfully relaxed and Andrew doesn't impose strict rules on his exhibitors so there is no stress involved and lots of lovely trees to help the karma! One of those trees is estimated to be about 700 years old and is a magnificent hollow oak tree, home to much wild life, which was featured on BBC Television a few years back.
We met our good friend Terry Heard and bought another 20 besom brooms from him for the autumn and to take some other local shows as well as Gartenfest when we go to Germany on 12th September. Cheeky devil had sold my besoms on Saturday so had to make me some more Saturday evening whilst Caleb and I were eating fish and chips, drinking beer and watching the superb sunset. No sympathy Terry!
If you live in the West Country then be sure to visit the show next year, not only to see us, but of course to enjoy the rest of the wood oriented show and the marvelous backdrop against which it is held. We will definitely be back to the Oak Fair next year. Hope to see you there.