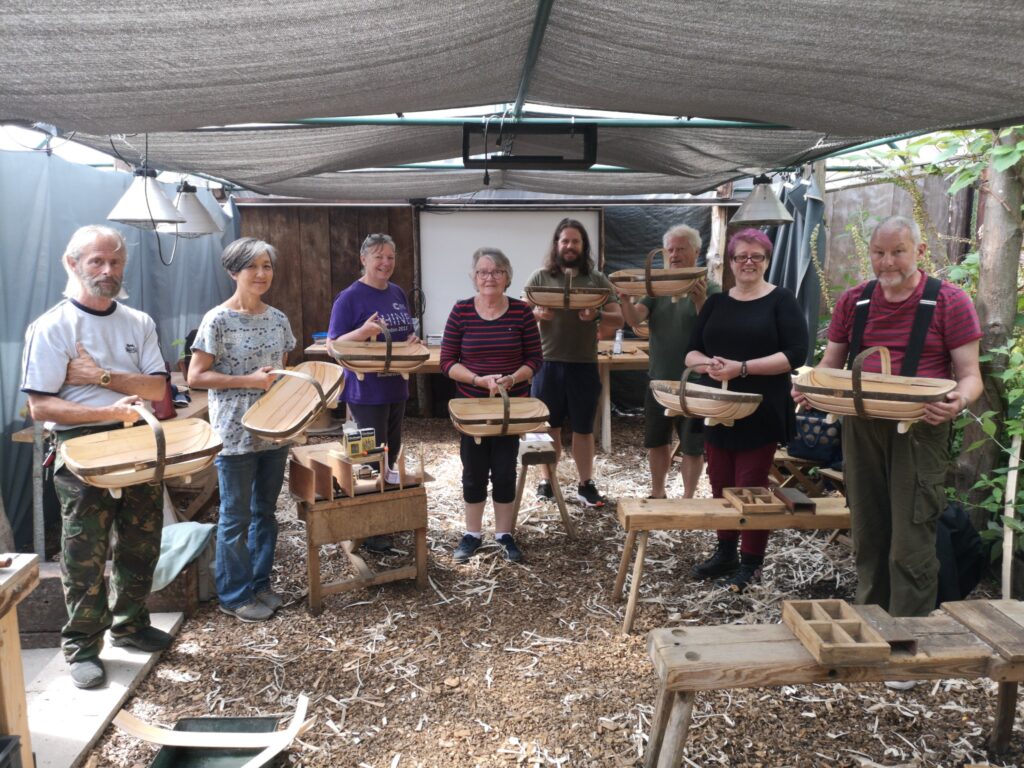 Mantel Farm Trug Making Course
Posted on:
On the weekend of 24th-25th July we ran a Trug Making Appreciation Course at Mantel Farm in Henley Down, near Battle.  www.mantelfarmshop.co.uk    It was the first time that we had organised a course with Kerry and Jason and it had been a long time in the planning due to COVID-19.  We started with a talk about Trugs and Trug making, its history, present and possible future prospects before cracking on with hand cleaving the chestnut for the handles and rims.
There were the maximum number of eight students and they all worked hard during the weekend.  We run the course over two days so that students are not under pressure and can enjoy what they are doing, rather than trying to rush everything in one day.  There were plenty of hot and cold refreshments on hand during the course as well as delicious biscuits and cakes.
At the end of the course everyone had made a respectable Trug which they took home with them to show family and friends.  The course itself was enjoyable to Chris, Caleb and me as well as for the students.  One of the students was a Japanese lady – the second that we have accommodated on our courses in recent years.  We said farewell to our students with a group photograph displaying their very own, handmade, Trugs!  Well done everyone and a bit thanks to Chris and Caleb who are both very patient, knowledgeable instructors.