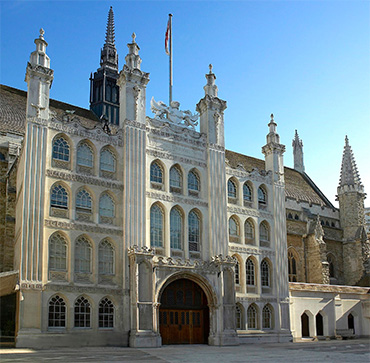 450 years Old
Posted on:
About three years ago I was invited to join the Worshipful Company of Basketmakers and was enrolled as a Yeoman Member.  This year is the 450th anniversary of the Company which was first formed in 1569 on the basis of ordinances devised and approved by the Corporation of the City of London.  In 1825 the City of London (the square mile – not to be mistaken with the rest of London) approved a grant of Livery and, in 1937, the Company was granted a Royal Charter, hence members need to swear allegiance to our monarch.
The 450th year was the reason that, yesterday, Tuesday 19th February, the Company held a Grand Trade Fair in the Guildhall in the City.  What a wonderful place to hold a fair of any sort, but perfect for Britain's oldest industry, basketmaking, to be celebrated.  Guildhall is a mediaeval building and has stood in the City since 1440, when it was completed after 29 years in the making.  We were located in the Old Library and Print Room which offered the perfect setting for our ancient crafts of basketmaking in their various forms.  Such a lovely building!
The event was busy all day long with HRH the Duchess of Gloucester opening the Fair and touring some of the exhibits.  Liverymen and women from other Worshipful Companies visited during the morning and the event was open to the public during the afternoon.  The Worshipful Company lends financial support to the Association of Basketmakers (of which I am also a member) and there was a good display put on by the makers' association.
All in all, a a good day to be long remembered by all those that attended or exhibited.  Makes me proud to be a basket maker!